Truth to that
Day 41 from the Flip
Just some more bulking up.
Uploading: image.png…
Damn, that's nice
Day 49 from the flip
Getting closer, getting fatter, starting to see faintest hints of amber!
Wow!! very beautiful looking flowers
nice of you to share a look at your work
all the best and grow well
Dequilo
Day 54 from the flip.
Noticed some foxtailing starting.
We've had a some pretty gnarly heat waves recently, and my basement usual stays pretty warm unfortunately. Temp inside the tent was showing 81, which is a bit higher than I'd like.
But, definitely more and more amber showing, so I'm thinking harvest may be happening in a week or so. So I'm not too concerned about the foxtails.
very nice Photos
they are moving right along
thanks for showing us your work
Dequilo
Thanks! Happy to share.
I keep these grow journals as a reference for myself as I learn,
but very happy to know others get something from it as well!
I have been reading and seeing more bonsai mothers but none as cool as urs…The entire journal has been a pleasure to read and watch. A beautiful grow and Im sure the flower will be A ++++
Very nice plants @inkfromblood! You flushing now? If so, for how long already?
I only flush if I'm seeing nut burn or lockout.
From my understanding, final flushes are like shaking a polaroid - people having been doing it for years out of habit, but it doesn't actually do anything.
Haven't had any issues so far, and have gotten very positive feedback on taste and burn from strangers. But that's anecdotal, and doesn't mean much.
And that may be attributed to the fact that I don't overfeed my plants?
I'm growing in 3 gallon pots of coco coir (just the cheap Mother Earth stuff) and hand watering every other day.
When your smoking and coughing from the top part of your chest and have dark ash, you will want to flush.
Remember in the 90s coughing from the bottom of your stomach? That's good ol weed.
Not flushing any additional salts out, only allow for you to smoke more salts. Which is poisonous.
You will not flush out all. But getting it what you can helps your health.
Most pot heads are just that, just pot heads. Most have no clue what is supposed to be. Articles are ok, but having forums with trusted associates is better. I feel most news is sensational, only for views. You should hate being provoked for someone's paycheck. Never trust media.
Remember, at one time cigarettes were healthy. Lol someone paid to lie.
But the flushing debate isn't just about an article, but cold hard facts, backed by testing, gathering data and comparing results. No, I tend to follow @inkfromblood on this one.
The ol', recurring reference video: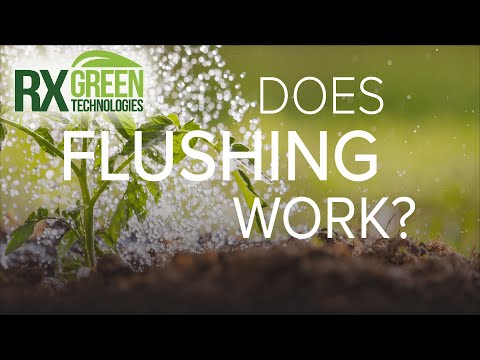 Notice in the vid from 16.13 on. They speak that the nutes just move up and down in the plant. But we know the plant uses these and not just moves them around.
These are vitamins to me. And when you start becoming malnourished, a balanced meal and vitamins puts you back in the right place health wise. I always attributed it to that kind of thinking…
What are some thoughts on that?
In the hydro system, i know the plants only uptake .2 to .4 every 2 days. They don't even mess with most of the mixtures. Seemingly. I need way more instruments to test things lol.