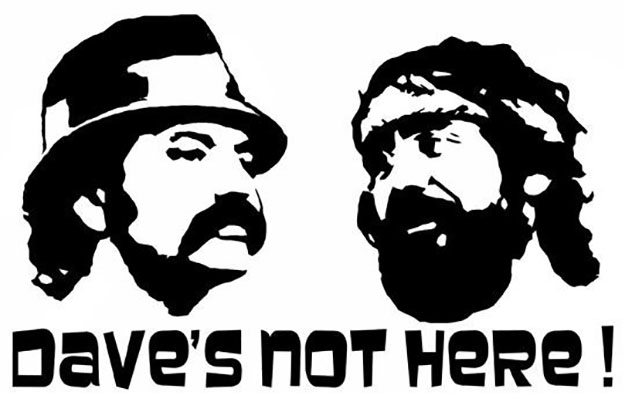 This inspired sketch by Cheech & Chong, released 50 years ago in August 1971 on their self-titled debut album, remains the stoner comedy duo's biggest hit. It's simply titled "Dave," but is known to fans as "Dave's Not Here." The back-and forth between Cheech Marin (Dave in the bit) and Tommy Chong is reminiscent of Abbott and Costello's equally famous "Who's on First? routine. Like Abbott, Chong plays the straight man to Cheech's Costello.
Chong says it happened "by accident when we were rehearsing. I was inside a nice air-conditioned room. Cheech was outside. It was a really hot August day. The sun was beating on his head and the door was locked from the inside. Everytime he'd knock I'd torture him and say, 'Who is it?' I was supposed to open the door and let him in."
Marin adds: "I fell into character and said, um, 'It's Dave, open the damn door.'
Chong continues: "He kept knocking on the door and I said, 'Who is it?' He said, 'It's me man, I've got the stuff. Let me in.' Then he'd knock again. I'd go, 'Who is it?' Finally, he was dying of sunstroke and he goes: 'It's me, Dave. Let me in!' I said, 'Dave?' Then I said, 'Dave's not here.'"
"Tommy Chong torture," Marin acknowledges. "It started our career."
Like Abbott, Chong plays the straight man to Cheech's Costello.
"Dave" opens the second side, clocking in at just 1:25. The albun also includes "Blind Melon Chitlin'," "Wink Dickerson" and "Acapulco Gold Filters." Cheech & Chong was nominated for a Grammy in the Best Comedy Recording category.
They followed with four more albums, including Big Bambu with the large rolling paper in 1972 (also nominated for a Grammy) and Los Cochinos, their only Grammy winner, in 1973. By 1978, they became movie stars with the release and success of Up in Smoke.
Here's the version of "Dave" in Cheech & Chong's Animated Movie: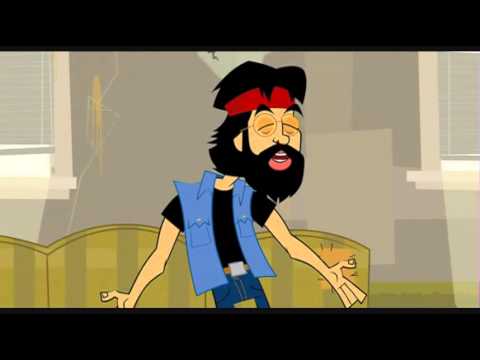 Originally posted on Celebstoner.com