Hello GN Colleagues, if you're in the Phoenix area, join our friends Urban-gro at the USCC Expo in Phoenix Oct 5-6! Make sure to stop by and talk with Mike @Mike_Urbangro! They will be displaying the BIOS Lighting LED grow lights in their booth #321 and will answer questions about the Icarus Gi2, Icarus Vi, and the new Icarus Ti toplight/greenhouse fixture.
You can reach out to Urban-gro with questions or to set up an appointment here!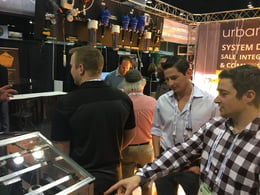 Booth 321
Visit Us on the Expo Floor
Stop by booth 321 to see how urban-gro's systems integration and smart ag tech can help you automate your facility, manage costs, and increase yields.
Meet Your Regional Rep
Mike McGrew
Mike works with cultivators throughout the southwest, mountain west, and midwest regions to optimize their facilities. From designs that maximize square footage, to proper equipment selection, to ongoing competitiveness and compliance—he understands the regulations and opportunities unique to the region.
Reach out to Mike here: @Mike_Urbangro
@bmanes @fife @KrisGrows @growop @ArizonaHempGrowers @garelde @420Patients @howard @ryanh @skeeterb @CS019148 @PhilB @PCMSLLC @DynamicFlowers @bhermansky @antonio.shipp12 @charlestousek @tasiakelle @DesertDog @joe @mmckee420 @dubcab602 @AltMedReed @CannaBull420 @botanirotica @Ryan_Beringer @Growernick @ApexAdvanced @cobaltsssc06 @georgerooph @PopeCannabaceae1 @sierramcdonald88 @dutro.david @nitroisy @anneface011389 @GenefinderOG @john @bstewart.lifelegacy @TxGrow @beasley82boy @Kirk_Schmitz @joemketterer @adamsilvestri @ShawBee @Alfro_EndoFarms @milessadowsky