Hey brother do you know if there are there anymore of those 600watt Mars LEDs available at that price? I have need of two more for another closet grow for my clones. Amazon's price is now $100+ range. Love these little guys for certain spots. Thanks Love and peace.
I'm considering Either two of them, three the 2,000's , or six 1000's for one of my 4x8' flowering tents. They have same amt total watts and about the same price, I'm just not sure which would cover area best.
Yeah, they do. I've heard that elistar are really good too though, but I don't know if it's true or not as this is my first foray into LEDs.
Soon as I get a sec I'll find the website and post a link to it for you man.
The biggest prob I've had trying to figure out what to buy is that every company out there claims there lights to be the best.
Are some of the super premium brand lights actually worth the money or not? I've looked at the kind 5series and blackdog n they're like 2k or more a light. …or would 4 of the Mars 1000's give me a better outcome?
I've also been looking into CMH and plasma lighting, but I don't really like that you can't air cool them like you can w/a mh/hps. I run a multi tent perpetual grow and don't want to have to worry about running ac to 5 tents due to heat concerns.
I'm running 3 of the Mar's tsl 2000's and can handle flowering of 12 -15 girls at a time. Although it does still require a typical 5,000 btu a/c + my 8 inch 750 cfm exhaust fan running at all times. Keep in mind my main flower room is full on mylar for maximum reflectivity to get the utmost return on power usage , which of course is subjective dependent on outside temps. I've had zero issues with my Mars lights although my experience with them is limited to those manufactured in the last year or so , purchased new. Specifically the tsl 2000's and the 600's.
There's just no way I could run hid as in hps or mercury vapor due to extreme heat issues that would incur. Time will tell with these Mars LED's but with a year + under my belt with these lights I would recommend them over more expensive options. I've visited other growers using the higher $ LEDs like spider***r for instance and they even agreed for the extra $ 200 - $ 800 spent on the higher intensity lights… But I have no doubt some of these guys with mad skills on here could school me all day on this subject. Just my personal take with my budget
Peace and love !
Hey, check this out, much to my surprise, this oscillating light trick is already having an effect on the Wall O Bud…this is so cool wish I had thought of it earlier…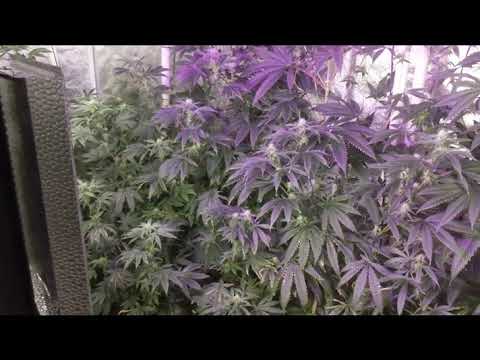 Thanks bro, I really appreciate it. Approx what type of dried weight do you get outta that per harvest? Thx.
Brother it varies so much from crop to crop. I've played with a dozen different varieties in just my last three harvests. That along with changing brands of nutes and mixing in fast finishing breeds and a lot of auto- flowers lately it's been good but crazy. Suffice it to say that with the Mars 2000's, good nutes and watching my pH levels along with tons of low stress training and trying to keep my colas up in the trellis my nugs have been dense as I could ask for. Not sure if I can hype someone's YouTube channel on here but check out Mr. Canucks grow. Love that dude.
Thx brother, I'll check it out.
I've never tried autos. Do you like them? Are they as good a quality product as photos? Thx.
Hey brother the auto's are a cool change of pace occasionally and sometimes you'll get a rocking phenotype. I would recommend giving them a try. But me personally I prefer regular photoperiod. With low stress training and the ability to induce flowering when I'm ready along with the ability to clone the 12/12 's they're my favorite. Peace and love.